Dysport
Consultations offered at our two convenient locations in Danville and Pleasanton
If you're over 30 years of age, than you probably have frown lines. Also known as "angry 11s," these pesky wrinkles reside on the forehead, between and slightly above your eyebrows. The solution of choice is a botulinum neurotoxin, like Dysport. We inject Dysport into the tiny muscles that cause frown lines, smoothing out frown lines and forehead wrinkles for several months.
Correct Frown Lines Quickly and Comfortably
Botulinum type A, the active ingredient in Dysport, temporarily paralyzes the tiny muscles in your forehead – the ones that contract and cause wrinkles. After treatment, you'll be able to show off a refreshed and younger-looking appearance.
Dysport Benefits
Convenient, non-invasive, and brief treatment
Temporary correction of frown lines, crow's feet and forehead wrinkles
Used in millions of cosmetic treatments every year (Botulinum toxin type A)
The Treatment
Dysport works by blocking the neurotransmitters that would normally cause facial muscles to contract. Before injection, we cleanse your face with an antiseptic and apply a topical numbing cream (if necessary) to minimize discomfort.
The injection spots are then marked. We use a thin needle to inject Dysport into the forehead area. Treatment can be finished within 30 minutes and the results become evident 3-5 days later.
Recovery
You can return to work the same day, but you may have some redness and minor swelling around the treatment areas. If you feel any discomfort, an over-the-counter medication can be used. Be sure to protect the treatment area from sun for the first few weeks.
The results are temporary and last for 3-6 months. You can maintain results with repeat treatments at our Bay Area offices.
Possible side effects include (but are not limited to) numbness, discomfort and bruising. You can also build up a tolerance to Dysport, which will reduce its effectiveness over time. We'll discuss safety information in detail during your appointment.
Learn More
If you're considering a wrinkle treatment, now is an excellent time. Call our Danville office at 925-820-7290 or our Pleasanton office at 925-462-3700 to schedule your visit today.
People travel to our San Franscisco office from all over California and the greater U.S. While most of our patients reside in the East Bay Area, we see patients from the Tri valley area and beyond, including Lafayette, Alamo, Walnut Creek, Danville, Dublin, Pleasanton, Livermore, Palo Alto, Mountain View, and San Jose.
Our Offices
1387 Santa Rita Rd
Pleasanton, CA 94566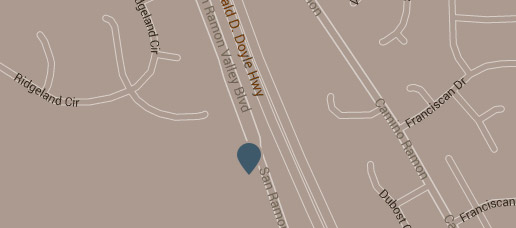 919 San Ramon Valley Blvd #150
Danville, CA 94526