Dermabrasion
Consultations offered at our two convenient locations in Danville and Pleasanton
Dermabrasion can treat scars, wrinkles, skin growths and other surface irregularities. With a mechanical abrasion technique, we remove the outer skin layer to stimulate the healing process and the regeneration of new skin.
Treating Rough Skin Texture
If you have darker skin, dermabrasion may not be suitable, because it can cause loss of pigmentation. Nonetheless, you should visit our Bay Area office if you are curious about the benefits of dermabrasion. We can determine if you're a candidate for dermabrasion, or recommend alternative treatments such as a laser treatment or chemical peel.
Benefits of Dermabrasion
Smoother skin texture
Brighter complexion
Reduced scarring, wrinkles, lines, growths
The Treatment
To prepare for dermabrasion, you will apply a topical medication as instructed for about 2 weeks. During the procedure, we use a device called a dermabrader to perform a controlled abrasion of the skin. As the skin is resurfaced, speed and pressure can be adjusted to tailor your treatment.
First, we administer a local anesthetic to numb your skin. Then we pass the dermabrader over the skin on your face, removing the outermost layers. When the abrasion is complete, the skin is covered with an ointment, which will need to be reapplied periodically during recovery.
Recovery
After dermabrasion, your skin will be sensitive. We'll advise you to use medications and cold compresses to minimize discomfort. Recovery time varies, depending on the extent of your dermabrasion (whether you've had a full facial treatment or spot treatment). A typical recovery is about 7-10 days.
Initial redness and swelling will gradually subside, but a pink color may persist in the skin for up to 2 months. Be sure to protect your skin with sunscreen as you heal. Dermabrasion has certain risks, including scarring, infection, irregular skin pigmentation and changes in sensitivity. We'll review these risks and other safety information during your consultation in the Bay Area.
Our Offices
1387 Santa Rita Rd
Pleasanton, CA 94566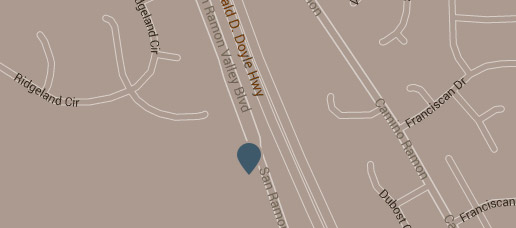 919 San Ramon Valley Blvd #150
Danville, CA 94526