Restylane
Consultations offered at our two convenient locations in Danville and Pleasanton
One of the most popular wrinkle fillers worldwide, Restylane can treat smile lines, marionette lines and thin lips. With a simple injection, we restore volume to sunken areas of tissue, effectively filling in wrinkles and helping you look younger. Restylane is made with non-animal, stabilized hyaluronic acid gel (HA), which is formulated to act like the naturally-occuring HA inside your skin.
Quick Correction of Lines, Wrinkles and Folds
Made with non-animal stabilized hyaluronic acid, Restylane can plump the skin for an immediate wrinkle correction. Find out if you're a candidate for Restylane by scheduling an appointment at our office in the Bay Area.
Restylane Benefits
Treats smile lines and marionette lines
Augments the lips for a fuller and more kissable shape
Fills in scars for smoother skin
The Treatment
As a natural cushioning agent and hydrator, hyaluronic acid is an important component of your skin. By injecting it into depressed areas of the tissue, we can correct wrinkles immediately. With Restylane, this process is quick and convenient. You'll probably be in and out of the office within one hour.
We start by cleaning your face with an antiseptic. Next, we identify the proper injection spots and determine the amount of Restylane that is necessary. For minimal discomfort, the injections are administered with a fine needle and lidocaine. Following injection, a quick massage of the treatment area will ensure smooth results.
Recovery
There is no downtime after treatment with Restylane. You should be able to return to your routine right away. The treatment sites will be sensitive and minor swelling can occur. Be sure to avoid immediate sun exposure and apply ice as directed.
The results are instantly visible and can last for up to six months. With maintenance treatments, you can achieve long-lasting results from Restylane. In many cases, we can combine Restylane with another injectable (such as Botox) for an optimal outcome.
Our Offices
1387 Santa Rita Rd
Pleasanton, CA 94566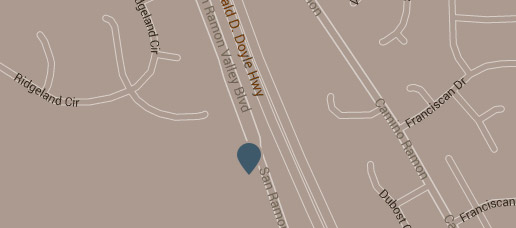 919 San Ramon Valley Blvd #150
Danville, CA 94526