Botox
Consultations offered at our two convenient locations in Danville and Pleasanton
Botox Cosmetic is a non-invasive wrinkle fighter used by plastic surgeons and dermatologists around the world. Here in the Bay Area, we routinely use Botox to treat frown lines, crow's feet and other age-related skin conditions. Whether you're experienced with Botox or considering it for the first time, we can provide treatment and also educate you about some of the latest Botox alternatives.
For Temporary Correction of Frown Lines
While Botox has a long list of therapeutic treatments, we typically use it for cosmetic purposes. With an injection into strategic points on the forehead, we can erase frown lines for 3-4 months. This brief and comfortable treatment can be completed during your lunch break, with no downtime required.
Benefits of Botox
Facial lines and wrinkles
Neck bands
Excessive sweating
Migraine headaches
Muscle spasms
The Treatment
A Botox treatment involves a few simple injections. Numbing cream is rarely necessary, but may be used to improve comfort in sensitive areas. Using a thin needle, we inject Botox into the facial muscles that are contracting and causing lines and wrinkles to form. You may need several injections in a small area.
Muscles that are treated with Botox are relaxed, but will not be prevented from forming natural facial expressions. A treatment can easily be finished within 30 minutes, and may also be performed alongside other non-surgical treatments, especially dermal fillers.
Recovery
After Botox, you can return to normal activities right away. You may notice some slight bruising or swelling at the site of injection, which can be covered with makeup. After injection, Botox blocks nerve impulses in the treated muscles. As a result, you will look younger and have a more relaxed facial expression, with fewer lines and wrinkles.
Botox results take 3-5 days to become fully evident, and the correction is temporary. To maintain results, you will need treatments every 3-6 months.
Millions of people have experienced the wrinkle-reducing benefits of Botox Cosmetic. Research on the drug's safety and efficacy is extensive, but there are possible side effects you should consider. Potential adverse events include bruising, swelling, redness or itching at the injection site. It is also possible that you will experience an allergic reaction, fatigue, headache, flu-like symptoms, or eyelid droop. We'll review Botox side effects in detail during your visit to our Bay Area office.
Brilliant Distinctions Program
Brilliant Distinctions is a customer loyalty program from Allergan, the makers of Botox, Juvederm and Latisse. By becoming a member, you can earn points and receive specials offers from Allergan. These points can then be used toward future Botox or Juvederm treatments, or to purchase Latisse.
Register today for the Brilliant Distinctions program and be sure to let us know you are a member when you book your next treatment.
Our Offices
1387 Santa Rita Rd
Pleasanton, CA 94566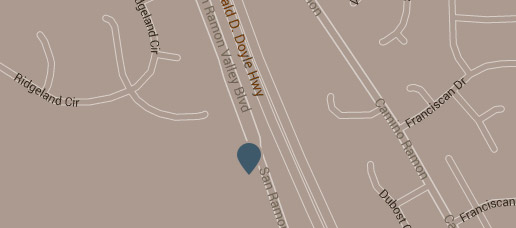 919 San Ramon Valley Blvd #150
Danville, CA 94526