Smartlipo
Consultations offered at our two convenient locations in Danville and Pleasanton
For Minimally Invasive Body Slimming
SmartLipo is an advanced form of liposuction that uses a medical laser to enhance the fat removal process. With laser energy, we can melt or loosen the fat prior to removal. After the procedure, the laser provides skin-tightening benefits that improve your liposuction results.
If you have a small or moderate amount of extra fat in your thighs, tummy, neck or elsewhere, consider SmartLipo at our Bay Area practice. It's the perfect treatment for slimming down problem areas, and requires minimal downtime.
Why Choose Laser Liposuction
Outcomes are proven. (View our before and after photos)
Laser skin-tightening benefits enhance the outcome
It's minimally invasive and requires minimal downtime
Although we recommend SmartLipo as a method to slim down specific areas, it's not a weight loss method. If you've had little or no success slimming down areas like your abs, thighs, neck, or back, you might be the perfect candidate for SmartLipo here in the Bay Area.
The Procedure
SmartLipo is often performed with a local anesthetic and requires less than one hour to complete. We begin by make several tiny incisions in the treatment area. A cannula (a narrow tube) equipped with a small laser will be inserted into the tissue. Throughout the procedure, we deliver pulses of laser energy to first liquefy and then remove the targeted fat cells.
After fat removal, an elastic compression garment will be placed around the treatment area to minimize swelling and promote healing. With the minimally invasive techniques of SmartLipo, we don't need to use stitches or sutures.
Recovery
SmartLipo often requires just a few days of recovery, and strenuous activities can typically be resumed within 2 weeks. However, you may experience some minor bruising, numbness or discomfort for a few days. The results of SmartLipo will become evident as swelling and bruising subsides.
While SmartLipo represents a major improvement over liposuction techniques of the past, the surgery still has a degree of risk and uncertainty. All known risks will be reviewed during your consultation with Dr. Bachelor.
Learn More
If you think you're a candidate for SmartLipo, we encourage you to visit our Bay Area plastic surgery office for a consultation. Plastic surgeon Dr. Bachelor performs proven liposuction techniques and takes all safety precautions to provide you with a predictable experience. During a consultation, we can answer your questions about laser liposuction and discuss the details of the procedure in depth. Call our Danville office at 925-820-7290 or our Pleasanton office at 925-462-3700 to schedule your visit today.
We routinely meet with patients who live here in the Bay Area, but also from greater California and the United States. Many live in the Tri valley area, and drive from places like Palo Alto, Mountain View, San Jose, Lafayette, Alamo, Walnut Creek, Danville, Dublin, Pleasanton, and Livermore.
Our Offices
1387 Santa Rita Rd
Pleasanton, CA 94566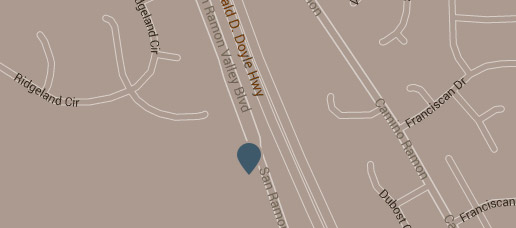 919 San Ramon Valley Blvd #150
Danville, CA 94526