Facelift
Consultations offered at our two convenient locations in Danville and Pleasanton
Facial Rejuvenation
With smoother and more youthful facial contours, you will look more like the best version of yourself. And people won't know that you've had a face lift (unless you tell them).
Facelift Benefits
Correct deeper lines and wrinkles
Elevate sagging facial tissues
Look as young as you feel
The Procedure
Your face lift surgery can be performed with general anesthetic or local anesthetic with intravenous sedation. We make an incision around the ears, which extends into the hairline. Next, we elevate and tighten the deep tissues to correct sagging skin and wrinkles. Within the deep layers of tissue, internal sutures are put in place before the skin is stretched back into position. Once the incisions are closed, bandages will be applied to the neck and lower face.
Before & After Photos
Recovery
"My patients get the emotional benefit of looking more the way they feel or achieving an appearance that they had not been able to achieve in other ways. It makes them feel whole, it makes them feel better about themselves, and I think that is the main goal of plastic surgery in general." – Dr. Bachelor
Expect some swelling, bruising and discomfort after the surgery. These temporary side effects are normal, and you can manage them with prescription medication. We'll advise you to elevate your head and use a cold compress to minimize swelling.
Typical recovery time is 7-10 days after face lift surgery. You'll come back to have the stitches removed in about one week, and bruising should resolve within two weeks. Some minor swelling may persist for up to eight weeks.
Like all cosmetic surgical procedures, a face lift has risks. Potential adverse events include asymmetry, infection, pain, and changes in facial sensitivity. During your consultation, we'll review risks and detailed safety information about face lift surgery.
Learn More
If you're interested in a facelift, we encourage you to visit our San Francisco plastic surgery office for a personal consultation. During a consultation, we can answer your facelift questions and discuss alternatives that may interest you. Call our Danville office at 925-820-7290 or our Pleasanton office at 925-462-3700 to schedule your visit today.
We see patients from all over California and the U.S. Many of plastic surgeon Dr. Bachelor's patients come from the San Francisco Bay area, but also as from the Tri valley area and beyond, including Lafayette, Alamo, Walnut Creek, Danville, Dublin, Pleasanton, Livermore, Palo Alto, Mountain View, and San Jose.
Our Offices
1387 Santa Rita Rd
Pleasanton, CA 94566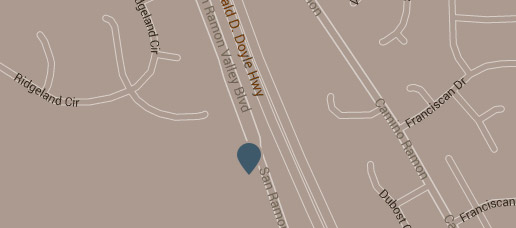 919 San Ramon Valley Blvd #150
Danville, CA 94526