Facials
Consultations offered at our two convenient locations in Danville and Pleasanton
When used alongside a medical grade skin care regimen, our customized facials can help you fight acne and reclaim healthy skin. Acne facials work by extracting dirt and bacteria from your pores, while calming the skin to control inflammation. You can trust our aesthetician to give you a personalized experience that works toward your goals for acne care.
Pore Cleansing and Extraction
You'll work with Sherry, our aesthetician, who will customize your facial to ensure that it works for your skin type. During the entire experience, she takes extra care to help you relax and de-stress. There may be skin care products that help you fight acne at home, which Sherry can recommend during your visit.
Benefits of a Facial
Deeply cleanses pores
Calms inflammation
Easy and relaxing
The Treatment
We begin with a pre-facial consultation, so we can learn about your skin concerns and tailor the facial accordingly. During your consultation, our aesthetician will look at your skin type (whether it's oily, dry, mature, etc) and formulate a plan incorporating gentle facials and skin care products that can meet your needs. If you have any known skin allergies, please inform Adriann in advance.
An acne facial will typically require an hour to complete. Your skin will be deeply cleansed and exfoliated. Acne blemishes will be extracted and skin will be calmed to control inflammation. With one of our custom facial masques, your skin will feel refreshed and rejuvenated as you leave our Bay Area office.
Recovery
After your acne facial, Sherry will send you home with instructions regarding home skin care and keeping your acne controlled. To maintain results, she may recommend a specific skin care regimen that includes acne facials on a regular basis.
In general, facials have few risks. But it's possible to experience an allergic reaction to certain products. If your skin is very sensitive skin, a facial may also cause a breakout. With a thorough consultation preceding your facial, we can safely formulate your acne facial to minimize the risk of unexpected side effects.
Learn More
If you're interested in a professional acne facial, we encourage you to contact our offices in the Bay Area to schedule an appointment. Call our Danville office at 925-820-7290 or our Pleasanton office at 925-462-3700 to schedule your visit today.
Our Offices
1387 Santa Rita Rd
Pleasanton, CA 94566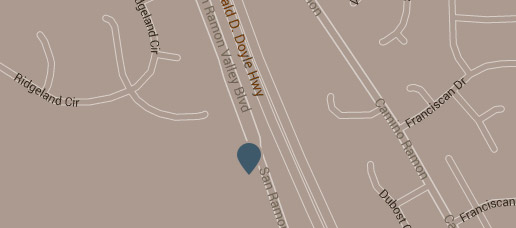 919 San Ramon Valley Blvd #150
Danville, CA 94526